Editor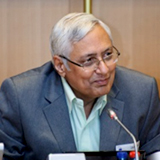 Amar Jesani
(
[email protected]
)
Dr Amar Jesani is a medical doctor working as an independent consultant – researcher and teacher – in bioethics and public health, in Mumbai, India. He is one of the founders of the Forum for Medical Ethics Society and its journal, Indian Journal of Medical Ethics (IJME; www.ijme.in). He is also its present editor. He is one of the founding trustees of the Anusandhan Trust, which manages the health research institute, CEHAT (Centre for Enquiry into Health and Allied Themes – www.cehat.org) in Mumbai, and the health action institute, SATHI (Support for Advocacy and Training to Health Initiatives – www.sathicehat.org), in Pune, India.
Currently, he is a consultant and co-principal investigator (PI) of the Wellcome Trust-supported research project titled "Investigating reproductive ethics-in-context: the Indian experience" with King's College, London. He has also been researching the impact of torture prevention mechanisms over the last three decades in India, as co-PI of a project supported by the Association for the Prevention of Torture, Geneva.
He has been an adjunct faculty of the Public Health Foundation of India (PHFI), New Delhi (since 2014), a visiting rofessor at the Ethics Centre, Yenepoya University, Mangalore, India (since 2011) and an associate faculty the Centre for Biomedical Ethics and Culture at the Sindh Institute of Urology and Transplantation in Karachi, Pakistan (since 2010).
He is a member of the scientific advisory groups of the Division of Basic Medical Sciences and the Division of Publication and Information (expert member) of the Indian Council of Medical Research, New Delhi. Over the last decade he has served as a member of a dozen research ethics committees in biomedical, social science and public health institutions in India, and is currently a member of the international REC of the Medecins Sans Frontiers (MSF), the IRB of Tata Instiute of Social Sciences (TISS), Mumbai and the central ethics committee of the ICMR.
In the past he worked at the Foundation for Research in Community Health for 15 year (1979-95). From 2001 to 2003 he also worked as Program Coordinator at the Achutha Menon Centre for Health Sciences Studies in the Sree Chitra Tirunal Institute of Medical Sciences and Technology (SCTIMST). From 1998-2000 he coordinated a National Committee for Ethics in Social Science Research in Health to develop the "Ethical Guidelines for Social Science Research in Health", published in 2000. He has served as a resource person in several short courses in research bioethics, and as visiting faculty at several institutions including the Sree Chitra Tirunal Institute for Medical Sciences and Technology, Kerala (2003-10), the International Centre for Diarrhoeal Diseases Research, Bangladesh (ICDDRB) (2006-13), the University of Philippines, Manila (2004-05), the Indian Council of Medical Research (2003-12), the Public Health Foundation of India (2010), the Public Health School of the SRM University, Chennai (2008-10), and TISSin Mumbai (2008-10).
Since 1979, he has been awarded and completed 20 research and training projects in public health and bioethics; and has co-authored and co-edited eight books.