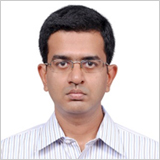 Vijayaprasad Gopichandran ([email protected])
Dr Vijayaprasad Gopichandran obtained his Bachelor of Medicine and Bachelor of Surgery (MBBS, 2002) from the Madras Medical College, Chennai and Doctor of Medicine in Community Medicine (MD, 2010) from the Christian Medical College, Vellore. Following this he worked at the Rural Women's Social Education Center, a rights-based women's organisation in Kancheepuram, providing community based health care services in rural areas. He pursued doctoral research in Public Health Ethics at the SRM University, Kattankulathur, Kancheepuram District with an INSPIRE Fellowship from the Department of Science and Technology, Government of India. His area of work for the PhD is "trust in the doctor-patient relationship". After obtaining a PhD degree in Nov 2015, he is currently assistant professor at the Department of Community Medicine, ESIC Medical College and PGIMSR, KK Nagar. He also volunteers his clinical services on a weekly basis at the RUWSEC clinic in a remote underserved village, Karumarapakkam in Kancheepuram district. His areas of interest include non communicable diseases epidemiology, health communication, doctor-patient relationships, medical and public health ethics.
He has served as working editor for the Indian Journal of Medical Ethics since 2014. He is also consulting for the World Health Organization for developing ethical guidelines for public health surveillance and developing a curriculum for training in ethics of implementation research. He has more than 14 years of primary care clinical work experience in outpatient and inpatient settings and 6 years of clinical work in community outreach projects. He has been actively involved in community-based epidemiological and bioethics research, more than 20 of which have been published in national and international journals.