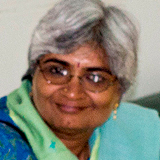 Mala Ramanathan ([email protected])
Dr Mala Ramanathan has been on the faculty of the Achutha Menon Centre for Health Science Studies (AMCHSS), Sree Chitra Tirunal Institute for Medical Sciences and Technology (SCTIMST), Thiruvananthapuram, Kerala, since October 1996. She is currently Professor at the AMCHSS.
She has a Masters' in Statistics from the University of Madras (1984) as also an M Phil (1989) and PhD (1993) in Population Sciences from the International Institute for Population Sciences, Mumbai. She also has a Masters' in Medical Anthropology from the University of Amsterdam (1998). She has undergone Bioethics training as an Ethics Fellow at the Harvard School of Public Health, Boston (2002-04). She is part of a larger group affiliated to the Indian Journal of Medical Ethics that engages with bioethics issues in general and research ethics in particular.
She has developed and taught several modules on gender and health and qualitative research methods as part of the Masters' in Public Health Programme at the AMCHSS. She is a visiting Professor at the Centre for Bioethics and Culture, SIUT, Karachi where she teaches research and public health ethics. She has been part of an ICMR initiative for training in social science research in health around the country.
Her specific research interests are sexual and reproductive health and gender issues in health and she specialises in using both quantitative and qualitative approaches to addressing research questions. She has received research grants from several sources such as the MacArthur Foundation, the WHO-SEARO and the Government of India. Her recent research projects include 'Impact of type 2 diabetes on lives and wellbeing of women' funded by the Department of Science and Technology, Government of India and 'MTP/EC services for women in a population in reproductive health transition: Providers' and institutions' perspectives' funded by the Indian Council for Medical Research, New Delhi. She has published extensively in areas of women's health and bioethics, particularly public health and research ethics.
She has been a member of the IEC for the Health Action for People, Thiruvananthapuram, since April 2013, and was a member of the SCTIMST-IEC for five years from 2004-2008. She is currently the member secretary of the IEC, SCTIMST since June 2014.
She has served on the Editorial Advisory Board of the Indian Journal of Medical Ethics for eight years from 2006-2014. Since June 2014, she has been a Working Editor for the journal, involved in facilitating editorial decisions. She lives and works out of Thiruvananthapuram, Kerala, India.