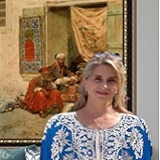 Thalia Arawi ([email protected])
Dr. Thalia Arawi, (BA, Sociology, MA, Political and Moral Philosophy) PhDs (Philosophy and Bioethics) is Founding Director of the Salim El-Hoss Bioethics and Professionalism Program (SHBPP) at the American University of Beirut Faculty of Medicine and Medical Center.
The SHBPP the first and only Regional Bioethics and Professionalism Program in the Arab Region and was recently announced as the first WHO Collaborating Center for Ethics in the Arab Region.
Dr. Arawi is the first Arab to specialize in Bioethics. She is also the Clinical Bioethicist, Clinical Ethics Consultant and Certified Healthcare Mediator at AUBMC. Dr. Arawi is the first Arab member to be appointed on the board of the International Association of Bioethics and is also member of the American Society of Bioethics, the Canadian Society of Bioethics, the Provincial Health Ethics Network and, the UK Clinical Ethics Network, the Lebanese National Advisory Commission of the Ethics in Life Sciences and Healthcare, to mention but a few. Dr. Arawi is a founding member and Advisory Board member of the Bioethics Network on Women's Issues in the Arab Region and has been elected as the First Chair of the Network.
She has also been elected as senior fellow at the ge2p2 global foundation for the advancement of ethical and scientific rigour in research and evidence generation for governance, policy and practice in human rights action, humanitarian response, health, education, heritage stewardship, and sustainable development – serving governments, international agencies, civil society organizations (csos), commercial entities, consortia and alliances then promoted to Senior Fellow. She is also senior fellow at the ge2p2 Center for Disaster and Humanitarian Ethics.
Dr. Arawi is also the first Arab consultant at the Center for Conflict Resolution in Healthcare LLC, Memphis TN and member of the WHO COVID-19 Ethics Working Group and was appointed as Liaison Officer and Bioethics Focal Point to the Prime Minister. Dr. Arawi is also a member of the WeCope (World Emergency COVID Pandemic Ethics Committee).
She has participated in a multitude of national, regional and international conferences and has several publications on bioethics. Her research interests are mainly in the areas of clinical ethics, biomedical ethics, philosophy of medicine, humanitarian medicine, ethics and refugees, bioethics in conflict zones, ethics and mental health and medical education.