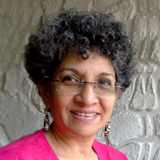 Sandhya Srinivasan ([email protected])
Ms Sandhya Srinivasan is a Mumbai-based freelance journalist and researcher with a Bachelor's degree in philosophy (Bryn Mawr College, USA) and Master's degrees in sociology (University of Bombay) and public health (Columbia University, USA).
She has been a journalist since 1986, writing primarily on public health and medical ethics, in academic journals and in the general media. She was executive editor of the Indian Journal of Medical Ethics from 1998 to 2011 and is currently consulting editor of the journal. She has also been consulting editor for Infochange News & Features, published by the Centre for Communication and Development Studies (CCDS), and for Scroll.in, a digital daily of political and cultural news from India.
In 2002-3, she was an Ashoka Fellow for her work in medical ethics. From 2007 to 2011, she was a member of the faculty of the Centre for Studies in Ethics and Rights. She has served on the institutional ethics committees of the National Institute for Research in Reproduction and of the Anusandhan Trust.
Ms Srinivasan's Master's thesis in 1997 was on the fertility industry in India, a topic further explored in a Panos Reproductive Health Media Fellowship in 1998. In 2010, she edited a collection of papers on this subject for the Sama Resource Group for Women and Health (Zubaan, 2010). She has also written extensively on ethical and regulatory issues in clinical trials in India.
She has conducted research and written for Panos South Asia, UNAIDS, UNICEF, the United Nation Research Institute for Social Development, Wemos Foundation, Somo Foundation, IPAS, and the Council of Social Development. In 2014-15, she supervised a Ford Foundation funded study for CCDS on internet access in Pune slums.
Ms Srinivasan has conducted classes on publication ethics and responsible research for the University of Mumbai, the Yenepoya-Fogarty master's programme in research ethics, TISS, FMES and other organisations.
She is a member of the Network of Women in the Media-India, the Indian Association of Medical Journal Editors, and the World Association of Medical Editors. She is a member of the editorial board of Developing World Bioethics and a member of the international advisory board of Research Ethics.